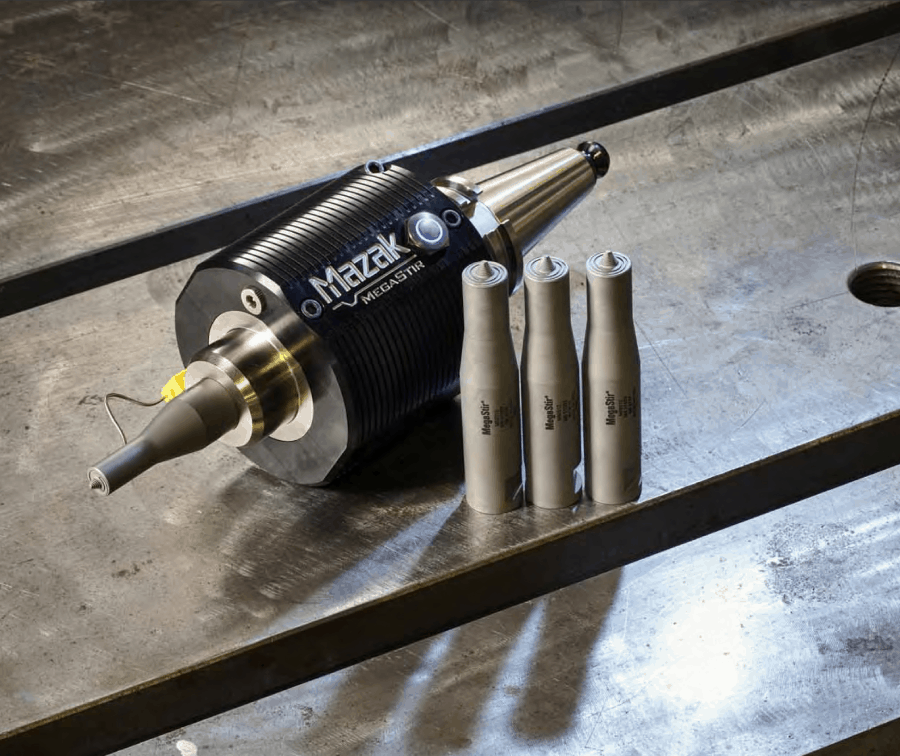 Our Pedigree
Since 2001, Mazak MegaStir has created proprietary technologies aimed at combining un-joinable materials, including steel and high-temperature alloys. Our Friction Stir Welding (FSW) products put the power of this technology in our customers' hands, while our services ensure that they have access to the expertise they need to scope, solve and implement FSW processes that will transform their manufacturing operations and improve overall productivity.
Part of the HYBRID Multi-Tasking family of technology, FSW joins Additive Manufacturing (AM), Hot Wire Deposition (HWD) and Auto Gear (AG) as one of the revolutionary technologies Mazak has developed to take DONE IN ONE® part-production efficiency to the next level.
Industry-Leading Tools. Precision Welds.
Mazak MegaStir is the premier FSW tooling provider, offering solutions that include both ferrous and non-ferrous alloys.
We provide precision FSW tool holders that provide process feedback to control forge force and monitor temperatures.
Our technologies allow welding in a single pass, thus minimizing distortion and allowing thicker material combinations.
We created the high-temp FSW industry with our innovative tooling, and no one provides comparable tools.
Application Areas We Specialize In:
Friction Stir Spot Welding (FSSW)

When an application only requires spot welding, FSSW brings the advantages of FSW to a single spot on the workpiece. For low-temperature applications, solid tungsten carbide FSSW tools are available; for higher temperatures, such as FSSW applications in steel, the tool comes with a smaller steel tool holder and separate PCBN and composite metal matrix (CMM) tips.
Friction Bit Joining (FBJ)

Used primarily in the automotive industry, Friction Bit Joining is a proprietary friction spot welding technique developed by Mazak MegaStir. This method is used to join steels and dissimilar metals with a consumable bit that first cuts through a specific material then joins the parts together.
WHAT SOLUTION IS RIGHT FOR YOUR PROJECT?
Achieve a better weld today with full-function Friction Stir Welding technology from Mazak MegaStir.